M. Wang
Posted by

Date

2018-12-06

2018-12-06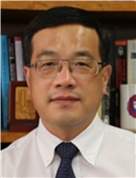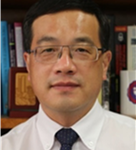 Professor
Department of Mechanical Engineering
RESEARCH INTERESTS:
Biomedical materials and tissue engineering
In vitro and in vivo evaluation of biomaterials
Materials and systems for controlled release of drugs / biomolecules / genes
Surface engineering, Nanotechnology, and 3D printing
BIOGRAPHY:
Professor Min Wang is currently a full professor in the Department of Mechanical Engineering. He was the Programme Director of HKU's interfaculty Medical Engineering (MedE) Programme in 2013-2018 and led the MedE Programme to successfully gain full accreditation by the Hong Kong Institution of Engineers (HKIE) in 2014 and 2017. He earned BSc and PhD degrees at Shanghai Jiao Tong University, China, and University of London, UK, respectively. He is a Chartered Engineer (CEng, 1995) and Chartered Scientist (CSci, 2005), UK. Before joining HKU in June 2003, he had worked in the University of London (1991-1997, UK), Nanyang Technological University (1997-2002, Singapore) and The Hong Kong Polytechnic University (2002-2003, Hong Kong). He has been conducting research in biomaterials and tissue engineering since 1991 and has been involved in biomedical engineering education since 1997. His biomaterials research covers ceramics, metals, polymers and composites and his current interests include nano-biomaterials, tissue engineering, controlled release, bionanotechnology and 3D printing. He has a large number of publications in peer-reviewed journals, conference proceedings and books. He has given many conference presentations, including more than 160 invited talks, at international conferences. Owing to his achievements, he has been elected fellow or academician of professional societies in the UK, USA, Hong Kong and internationally (FIMMM, 2001; FIMechE, 2007; FHKIE, 2010; FBSE, 2011; AIMBE Fellow, 2012; WAC Academician, 2013). He has been a Guest Professor or Adjunct Professor of several universities in mainland China.
Professor Wang is the founding Series Editor (2012 – Present) of Springer Series in Biomaterials Science and Engineering books published by Springer Nature (http://www.springer.com/series/10955) and has been Editor or Associate Editor of several international journals (Materials Letters, Nano LIFE, Medical & Biological Engineering & Computing, etc.). He has served in the Editorial Board of 20 international printed journals including International Materials Reviews as well as several open access (OA) journals including PLOS ONE. He was Chairman/Organizer of many conferences and has served in committees of more than 70 international conferences. He has been an Overseas Member of the Expert Panel – Project Selection/Awarding Panel for Biophysics and Biomedical Engineering of the National Natural Science Foundation of China, a member of the Engineering Panel of the Hong Kong Research Grants Council, and a member of the Admission Panel for Incubation Programmes, Hong Kong Science & Technology Parks Corp.
Professor Wang was Chairman of the Biomedical Division of Hong Kong Institution of Engineers and has been an Honorary Advisor of Hong Kong Medical and Healthcare Device Industries Association (HKMHDIA). He is a member of Hong Kong's Engineers Registration Board. He has been a Council Member of Hong Kong Institution of Engineers, Chinese Society for Biomaterials, Asian Biomaterials Federation, World Association for Chinese Biomedical Engineers (WACBE) and International Federation for Medical and Biological Engineering (IFMBE), and a member of the ICF-BSE Steering Committee of the International College of Fellows, the International Union of Societies for Biomaterials Science and Engineering (IUSBSE).
SELECTED PUBLICATIONS:
Q.Zhao, M.Wang, "Chapter 20 Smart Multifunctional Tissue Engineering Scaffolds", in: Smart Materials for Tissue Engineering: Applications (ISBN 978-1-78262-484-4), Edited by Qun Wang, Royal Society of Chemistry, UK, 2017, pp558-595
C.Wang, Q.Zhao, M.Wang, "Cryogenic 3D Printing for Producing Hierarchical Porous and rhBMP-2-loaded Ca-P/PLLA Nanocomposite Scaffolds for Bone Tissue Engineering", Biofabrication, Vol.9 (2017), 025031 (12p)
C.Wang, M.Wang, "Electrospun Multicomponent and Multifunctional Nanofibrous Bone Tissue Engineering Scaffolds", Journal of Materials Chemistry B, Vol.5 (2017), pp1388-1399
H.-W.Tong, M.Wang, W.W.Lu, "Enhancing Biological Responses for Osteoconductive Nanocomposite Scaffolds through Negative Voltage Electrospinning", Nanomedicine, Vol.8 (2013), pp577-589
B.Duan, M.Wang, "Chapter 4 Selective Laser Sintering and its Biomedical Applications", in: Laser Technology in Biomimetics – Basics and Applications (ISBN 978-3-642-41340-7), Edited by Voker Schmidt and Maria R. Belegratis, Springer, Berlin, 2013, pp83-109
S.Y.Li, M.Wang, "Hybrid Polymer-Metal Nanospheres Based on Highly Branched Gold Nanoparticles for Potential Medical Applications", IET Nanobiotechnology, Vol.6 (2012), pp136-143
T.Sun, L.-P.Wang, M.Wang, H.-W.Tong, W.W.Lu, "PIIID-formed (Ti, O)/Ti, (Ti, N)/Ti and (Ti, O, N)/Ti Coatings on NiTi Shape Memory Alloy for Medical Applications", Materials Science and Engineering C, Vol.32 (2012), pp1469-1479
M.Wang, "Chapter 6 Composite Coatings for Implants and Tissue Engineering Scaffolds", in: Biomedical Composites (ISBN 978-1-4398-0178-9), Edited by Luigi Ambrosio, CRC Press, FL, USA, 2010, pp127-177
B.Duan, M.Wang, "Customized Ca-P/PHBV Nanocomposite Scaffolds for Bone Tissue Engineering: Design, Fabrication, Surface Modification and Sustained Release of Growth Factor", Journal of the Royal Society Interface, Vol.7 (2010), ppS615-S629
B.Duan, M.Wang, W.-Y.Zhou, W.-L.Cheung, Z.-Y.Li, W.W.Lu, "Three-dimensional Nanocomposite Scaffolds Fabricated via Selective Laser Sintering for Bone Tissue Engineering", Acta Biomaterialia, Vol.6 (2010), pp4495–4505