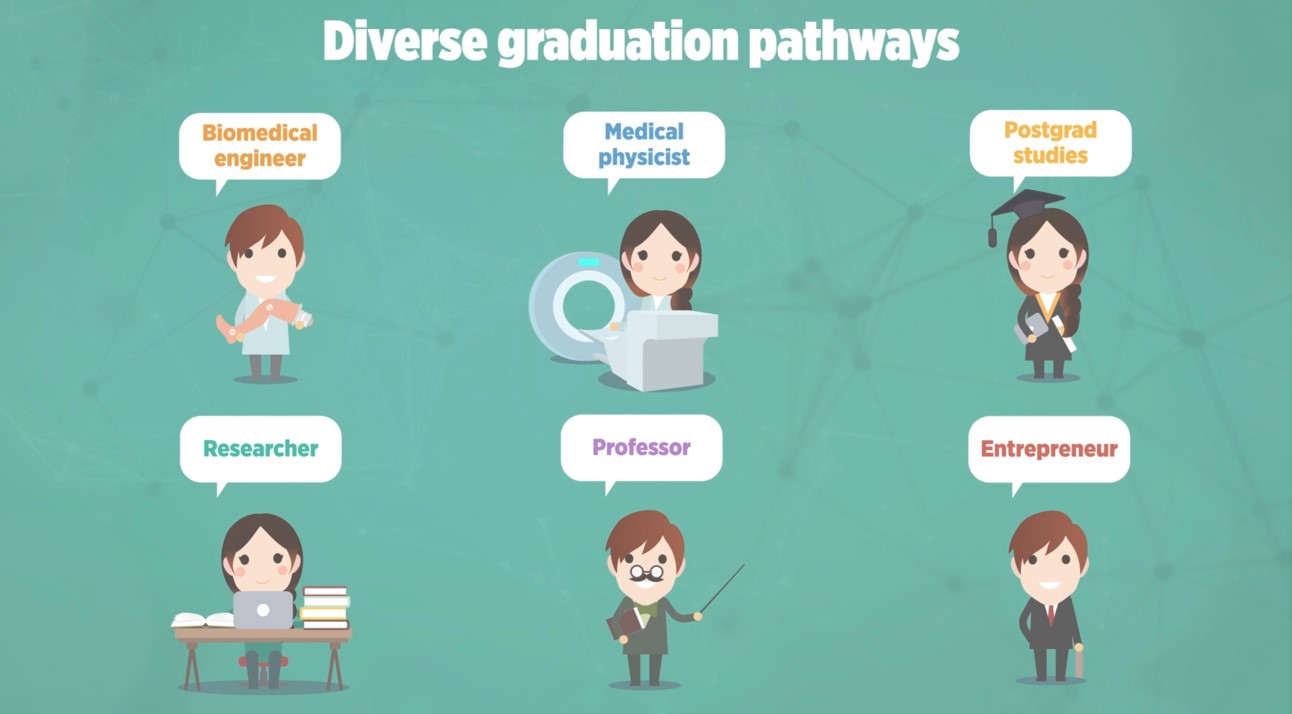 Biomedical engineering is a challenging and highly exciting profession. There is a fast-growing demand for graduates well-versed in engineering and life sciences. BEng(BME) graduates can
work as scientists and engineers in hospitals and research institutions;
work as R&D/service/sales engineers specializing in medical, healthcare or sports equipment;
work as electronic/electrical or mechanical engineers; or
join numerous local and overseas research programmes in biomedical engineering or related areas.
BEng(BME) Graduates
Commerce and Industry

Assistant Pedorthist (Pedorthic Technology Ltd.)
Assurance Associate (PriceWaterhouseCoopers Ltd)
BME Engineer (Automatic Manufacturing Ltd.)
Business Manager (Red Stone Global Investment Limited)
Engineer (Vastec Medical Ltd.)
Field Clinical Engineer (St. Jude Medical)
Financial Planner (Goldman Sachs Hong Kong)
Marketing Executive (Johnson & Johnson Co. Ltd.)
Marketing Officer (Health Care & Co)
Medical Graduate Intern (Pfizer Corporation Hong Kong Limited)
Medical Representative (Janssen Pharmaceutica)
Pilot (Cathy Pacific Airways Ltd. & Singapore Airlines Ltd.)
Product Specialist (Shun On Healthcare Ltd.)
Project Engineer (MediConcepts Ltd. & Medu-Scientific Ltd.)
Sales Engineer (Deltason Medical Ltd.)
Sales Specialist (GSK, Medtronic International Ltd, Synthes (Hong Kong) Limited, Medisource Supply (Asia) Company Limited)
Service Engineer (Roche Diagnostics, Associated Medical Supplies Co. Ltd, Becton Dickinson Asia Ltd.)
Service Technician (Bio-Asia Diagnostics Co. Ltd.)
System Developer (Rectitech Group Limited/Fuji Xerox Hong Kong Limited)

Community, Social & Personal Services

Biomedical Technician (Hong Kong Adventist & St. Paul's Hospitals)
Facilities Management Officer (Hospital Authority)
Research Assistant (The University of Hong Kong)
Senior Research Assistant (Prince of Wales Hospital)

Civil Service

Assistant Officer II (Correctional Services Department)
Assistant Project Officer (Hong Kong Productivity Council)
Biomedical Engineering Graduate (EMSD)
Cadet Engineer (Hong Kong Productivity Council)
Engineering Graduate (Hospital Authority)
Trainee Consultant (Hong Kong Productivity Council)

Further Studies

Medical Schools (Imperial College, UK & The University of Notre Dame, Australia)
TPG/MPhil/PhD, The University of Hong Kong
PhD, National University of Singapore
TPG, Australian National University