Alan Wong
Posted by

Date

2018-12-06

2018-12-06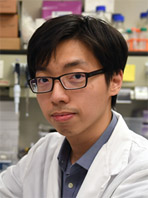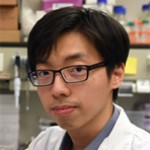 Assistant Professor
School of Biomedical Sciences
(joint appointment with Department of Electrical and Electronic Engineering)
RESEARCH INTERESTS:
Combinatorial genetics
Synthetic biology
Genome engineering
Disease biology
Combination therapy
Protein engineering
BIOGRAPHY:
Dr. Alan Siu-lun Wong is an Assistant Professor of the School of Biomedical Sciences at the University of Hong Kong (HKU). He is also jointly appointed at the Department of Electrical and Electronic Engineering of HKU. Before he joined HKU, he obtained his B.Sc. and M.Phil. degrees in Biochemistry and Molecular Biotechnology from the Chinese University of Hong Kong in 2005 and 2007 respectively, and completed his Ph.D. in Biochemistry at the Hong Kong University of Science and Technology in 2011. He joined the Synthetic Biology Group at Massachusetts Institute of Technology from 2012-2016 for postdoctoral training. Dr. Wong was awarded with the Croucher Foundation Studentship (2008), the Butterfield-Croucher Award (2008), the Croucher Foundation Fellowship (2012), the Hong Kong Institution of Science Young Scientist Award in life science (2011), and the RGC Early Career Award (2016). Dr. Wong's current research focuses on developing and applying cutting-edge technologies for studying complex disease biology and devise new therapeutic strategies. His research takes an integrative approach leveraging on various techniques in synthetic biology, CRISPR-based genome engineering, high-throughput sequencing, molecular biology, and genetics to decode the complex genetic bases of human diseases, as well as rationally design and engineer genetic circuits for providing new biomedical and biotechnological solutions.
SELECTED PUBLICATIONS:
Choi, C.G.G., Zhou, P., Yuen, T.L.C., Chan, K.C.B., Xu, F., Bao, S., Chu, H.Y., Thean, D., Tan, K., Wong, K.H., Zheng, Z., Wong, S.L.A.#Combinatorial mutagenesis en masse optimizes SpCas9's genome-editing activities. Nature Methods (2019) (#Corresponding author).
Leung, C.S., Li ,J., Xu, F., Wong, S.L.A., Lui, K.O. Ectopic expression of recipient CD47 inhibits mouse macrophage-mediated immune rejection against human stem cell transplants. FASEB J. https://doi.org/10.1096/fj.201800449R (2018).
Wong, S.L.A., Choi, C.G.G., Lu, T.K. Deciphering combinatorial genetics. Annual Reviews of Genetics 50, 515-538 (2016).
Wong, S.L.A.*, Choi, C.G.G.*, Cui, C.H.*, Pregernig, G., Milani, P., Adam, M., Perli, S.D., Kazer, S.W., Gaillard, A., Hermann, M., Shalek, A.K., Fraenkel, E., Lu, T.K. Multiplexed barcoded CRISPR-Cas9 screening enabled by CombiGEM. Proceedings of National Academy of Sciences 113(9), 2544-2549 (2016). (*Equal contributions).
Wong, S.L.A., Choi, C.G.G., Cheng, A.A., Purcell, O., Lu, T.K. Massively parallel high-order combinatorial genetics in human cells. Nature Biotechnology 33(9), 952-961 (2015).
Lai, K.O., Wong, S.L.A., Cheung, M.C., Xu, P., Liang, Z., Lok, K.C., Xie, H., Palkos, M.E., Yung, W.H., Tessarollo, L., Cheung, Z.H., Ip, N.Y. TrkB phosphorylation by Cdk5 is required for activity-dependent structural plasticity and spatial memory. Nature Neuroscience 15(11), 1506-1515 (2012).
Wong, S.L.A., Lee, R.H.K., Cheung, A.Y., Yeung, P.K., Chung, S.K., Cheung, Z.H. and Ip, N.Y. Cdk5-mediated phosphorylation of endophilin B1 is required for induced autophagy in models of Parkinson's disease. Nature Cell Biology 13(5), 568-579 (2011).
Wong, S.L.A., Cheung, Z.H. and Ip, N.Y. Molecular machinery of macroautophagy and its deregulation in diseases. Biochimica et Biophysica Acta – Molecular Basis of Disease 1812(11), 1490-1479 (2011).
Wong, S.L.A., Chan, W. M. and Chan, H.Y.E. Sodium dodecyl sulfate-insoluble oligomers are involved in polyglutamine degeneration. FASEB J. 22(9), 3348-3357 (2008).
Huen, N.Y.M., Wong, S.L.A. and Chan, H.Y.E. Transcriptional malfunctioning of heat shock protein gene expression in spinocerebeller ataxias. The Cerebellum 6(2), 111-117 (2006).
Wong, S.L.A., Chen, Y.W., Chan, C.M., Chan, C.S.M., Chan, P.K.S., Chui, Y.L., Fung, K.P., Waye, M.M.Y., Tsui, S.K.W. and Chan, H.Y.E. In vivo functional characterization of the SARS Coronavirus 3a protein in Drosophila. Biochem. Biophy. Res. Comm. 337, 720-729 (2005).

Featured on Cover of the issue.
Contact
Phone: 3917 9208
Email: aslw@hku.hk
Website: .