by Lee Kyung Min (May) | Interviewers: Donald Lam, Lee Kyung Min (May) | Photo Credits: Standard Chartered HK | 11 November 2013
Discussing the role, the technology, the people…
with the CIO of Standard Chartered Hong Kong.
With technology permeating the banking industry today, the traditional role of the Chief Information Officer is changing, just as the traditional applications of technology are changing as well.

In the first TecHKU 'Experts' interview with Ashley Veasey, the CIO of Standard Chartered Hong Kong, TecHKU shares with you his answers to our questions about the role of a CIO, the technology involved in banking, and the people that make up the technology division.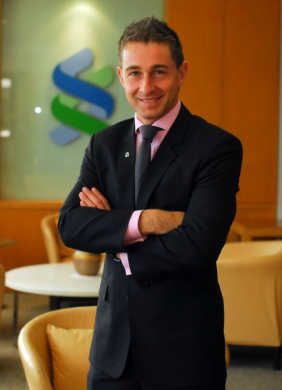 Ashley Veasey Follow @ducatiash
Chief Information Officer, Standard Chartered Bank HK
A technology leader with a career that spans over 20 years in retail, investment and wholesale banking.
Responsible for the bank's operations, systems development and technology infrastructure in HK.
Previous: Standard Chartered Offices in Singapore, Thailand and Vietnam
JP Morgan
Citibank
Being Chief Information Officer

Technological Trends in Banking

Zoe — Standard Chartered's 'Siri' of the Banking World

Other Applications of Technology — How the Bank Does It

For Potential Interns & Graduates

More information on internship and graduate programmes at Standard Chartered Hong Kong can be found on the following brochures:
Hong Kong Group Technology & Operations Internship Programme
Hong Kong Group Technology & Operations Management Trainee Programme