by Nayantara Bhat | Photo credits: Startup Weekend HKU| 12 October 2016
It's that time of year again – Startup Weekend is back at HKU for the third year running, and this time it's bigger than ever.
The past two years saw exponential expansion in both the number of teams competing and the variety and depth of the pitches that were proposed. With this year's SWHKU preceded by three pre-event bootcamps, we're all looking forward to seeing what is sure to be an even better line-up of ideas and innovation.
Given the marketability angle of Startup Weekend, one of the pre-event bootcamps was on conceiving of viable startup ideas. The other two was about building the "MVP" (Minimum Viable Product), from designing a user interface to creating a responsive web app to show off at the final pitches.
Not only were the bootcamps intended to boost participants' odds for the competition, they're also aimed at building a startup community. The hope is that the bootcamps and the competition itself will combine to create a collaborative environment where engineering and non-engineering majors can work together and maintain their momentum to carry the idea forward.
Many other hackathons have been characterised by problems of communication and momentum, and this year's SWHKU aims to solve this through the workshops, which addressed the basic techniques of UI/UX and mobile app building and gave a multi-disciplinary grounding to students of all majors. This will enable effective communication between business majors, developers and designers, leading to faster and better prototype design.
As always, participants of every major – not just computer science – are invited to join the competition, giving students from different majors a chance to meet and take ideas forward. The workshops are intended as a guide: you may be a business major or an arts major or an engineering major, and you may not even remember the exact techniques, but the idea is for you to come out of it with a knowledge of the tools available to you for idea-building. You may even meet your business/technical co-founders through the competition!
Ultimately, Startup Weekend is not limited to CS majors, nor does it exclude the many innovators who don't have a technical background. As always, it's a good platform for people of different disciplines to meet, create, and participate in the growing startup environment.
In previous years, TecHKU was the official media partner for SWHKU. This year, the SWHKU organising committee is mostly made up of our very own TecHKU writers and editors, along with a fresh team of undergraduates, who are all working together to kickstart the rise of HKU's startup community.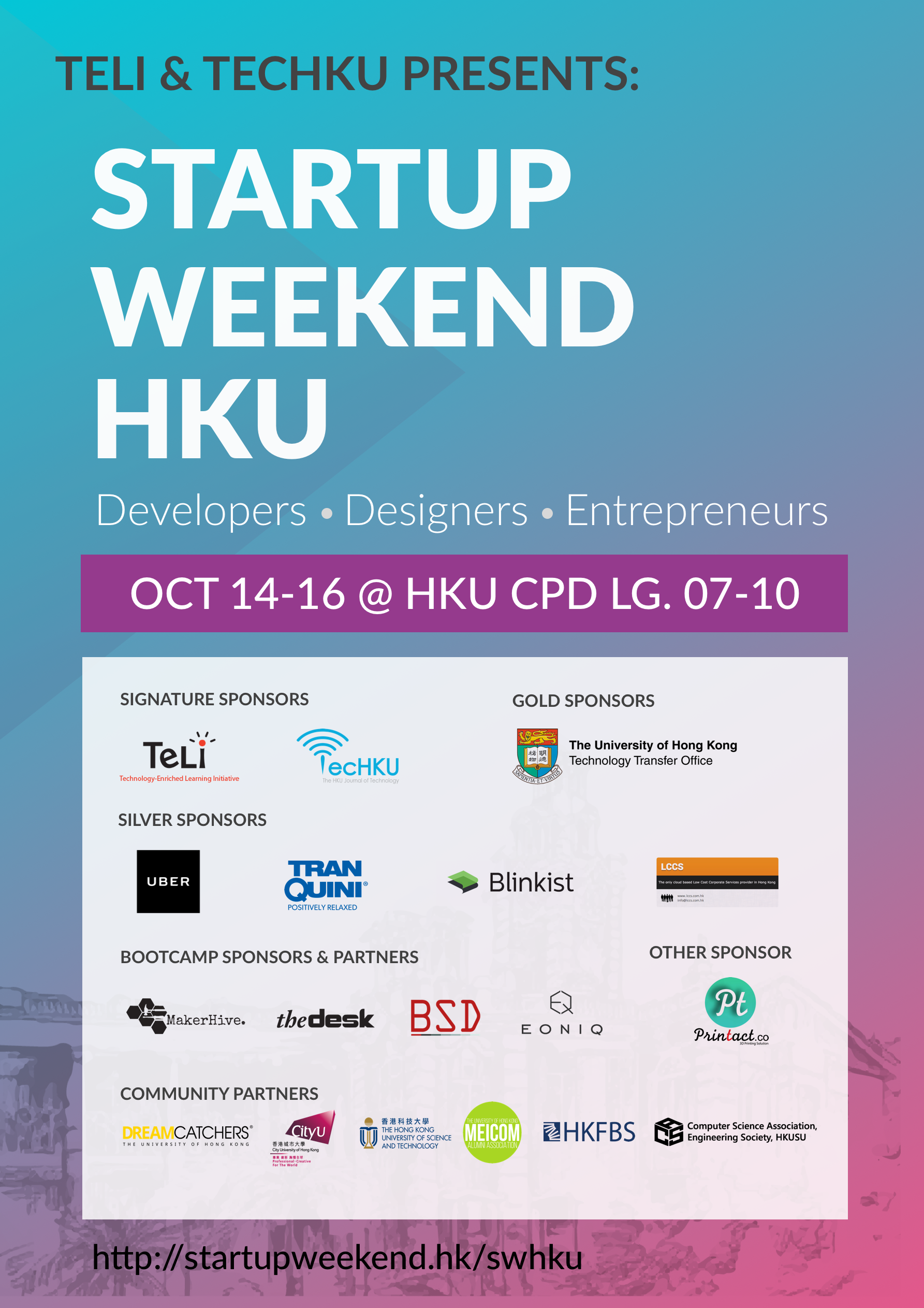 –All of TecHKU's coverage on past Startup Weekend HKUs
–Register for Startup Weekend HKU #3 Oct 14-16
–**40% OFF for developers**

Second-year journalism student at HKU. Book-lover. Food-lover. Music-lover. Chronic procrastinator.

Latest posts by Nayantara Bhat (see all)