by Nayantara Bhat | Photo credits: Quartz | 23 February 2016
In my Principles of Journalism class, we were introduced to the concept of 'news bites'. People don't have time anymore to carry around newspapers on their daily commute, especially when mobile phones are so much more portable. Here we introduce news bites. Think of it as taking a nibble of news here, a nibble of news there. Read this headline, read a little bit of the article for some more information, then move on to the next headline.
For years, I've been following Quartz, an online news organisation based in D.C. and London. I came upon the site completely by accident, and I've been hooked ever since. Anyone who has used the website will understand why I enjoy it so much. Sure, the number of articles isn't as plentiful as it might on a mainstream media site. And sure, there's no hard 'reporting' as such; every story is more like a feature. But Quartz is for me at the pinnacle of online news with its simple design, continuous scrolling and colourful statistics.
Quartz, the website, isn't exactly news bite material. It's more like a drawn-out meal of good-quality steak and wine. But the new Quartz app is everything I didn't know I needed.
Did you know?
You can build nice, clean graphs like Quartz's with Quartz's very own Chartbuilder.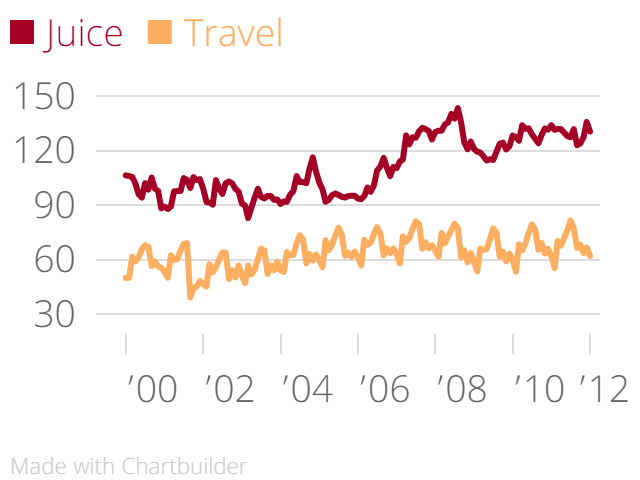 The app is laid out in a way that makes it look very much like iMessage. The Quartz team formulates short, 2-3 line messages that are sent to you after you send them one of their ready-made responses. For example, if I want to know more about the 'possible smoking gun' in the Volkswagen emissions scandal, I reply with a message made of the car, gun, and cloud emojis. If I'm not interested, I can skip to the next story by selecting 'anything else?'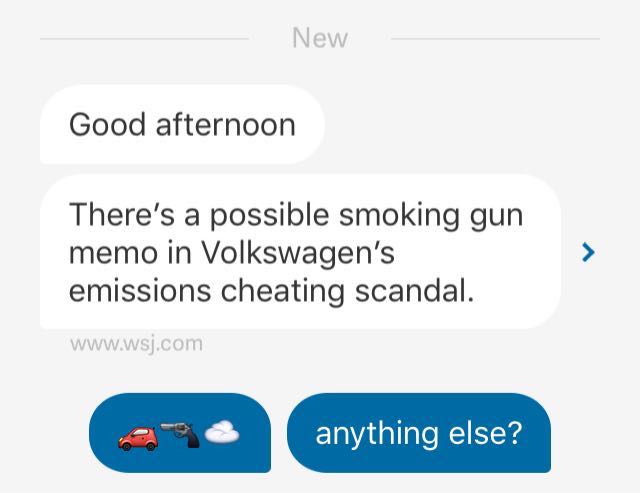 When there are no new stories to show, the app will say goodbye and send you a GIF, like this one of Picard waving goodbye.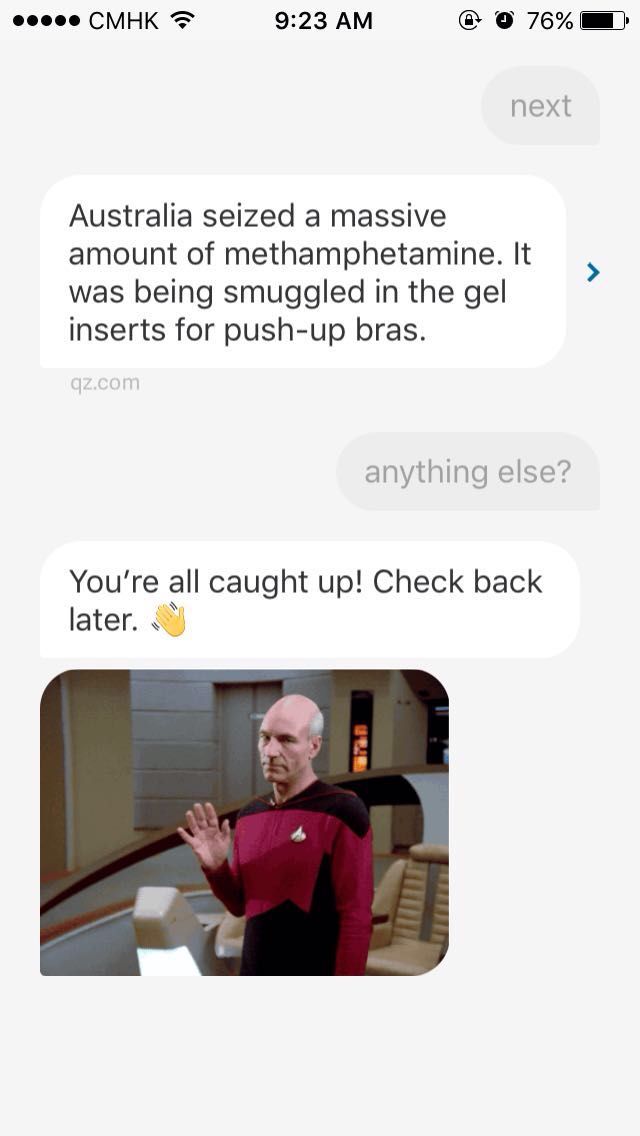 It's like catching up on the latest news with an old friend. And the minimal effort involved on my part makes it that much more attractive for me, since for a journalist, I'm pretty lazy about reading the news. Aside from the emojis, you can also send pre-scripted responses that are specific to the story and, as always, target the heart of the issue and provide you with the most interesting and relevant parts of it. You can also read the full article by clicking a little arrow to the right of the story.
Of course, nothing is without its disadvantages. The Quartz kind of content doesn't involve hard reporting; you don't get facts and hard news in double-time like you do with – for example – the BBC app. The amount of content is much lower than on a conventional news app, and not always entirely relevant, important or breaking.
App developers and outside services are increasingly using the chat interface as it proactively prompts actions and minimises user involvement. Examples include the SMS service Magic, which allows users to text operators exactly what they want and have it delivered to their door. Developers are focusing on making the user experience as hassle-free as possible, and outside entities like Magic are capitalising on this trend.
It's worth mentioning that Quartz has had a news bite-kind of system for a few years already. Every morning, my phone buzzes and delivers my Quartz Daily Brief email, or what I like to think of as my morning newspaper. As I heave myself out of bed and fix a cup of tea, I scroll through the message, which includes everything from economic news, to interesting occurrences, to trivia and strange facts.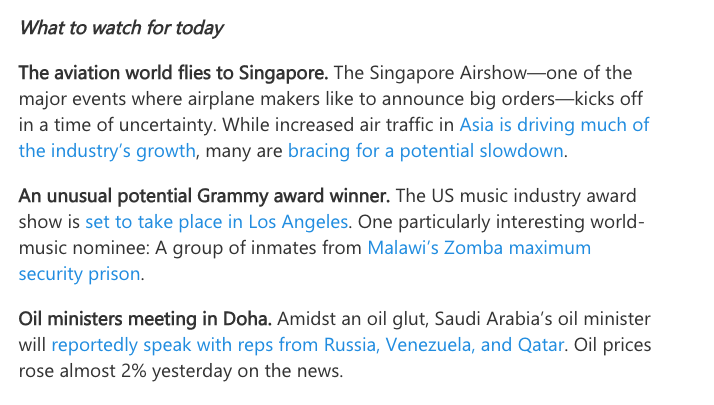 Generally when it comes to reading news, I open up BBC or Al Jazeera with the jaded air of an elderly man who's seen too much of the world. But Quartz somehow makes everything interesting in that they pick and choose the content they report with real diligence. They find the little tidbits of information that make a story interesting and summarise them quickly and concisely, with nice little hyperlinks that go to NYT or Reuters as well as the Quartz site.
In summary, I would definitely say that Quartz knows what the average news junkie wants. Or maybe they just really know what I want. Either way, their new app has changed the way I consume news – definitely for the better.

Second-year journalism student at HKU. Book-lover. Food-lover. Music-lover. Chronic procrastinator.

Latest posts by Nayantara Bhat (see all)