by Natalie Lung | Photo Credits: Wikipedia, TecHKU and others | September 27, 2014
Got a burning passion for starting your own startup? You can now learn business strategies from professors at Stanford University and experts from leading firms like Facebook, Yahoo, PayPal, LinkedIn, Jawbone and more at HKU for free.
"How to Start a Startup" (CS183B) is a class that Sam Altman is teaching at Stanford. He and his team at Y Combinator, a company that funds startups at their early stages, believe these classes can help more people start their own companies. That's why he is allowing hundreds of universities and organizations worldwide access to this course.
Be the first to know when you can attend video lectures and discussion sessions with other aspiring entrepreneurs from HKU by joining the How to Start a Startup @ HKU group on Facebook.
For detailed information on course schedule, reading materials and assignments, please visit the course site here.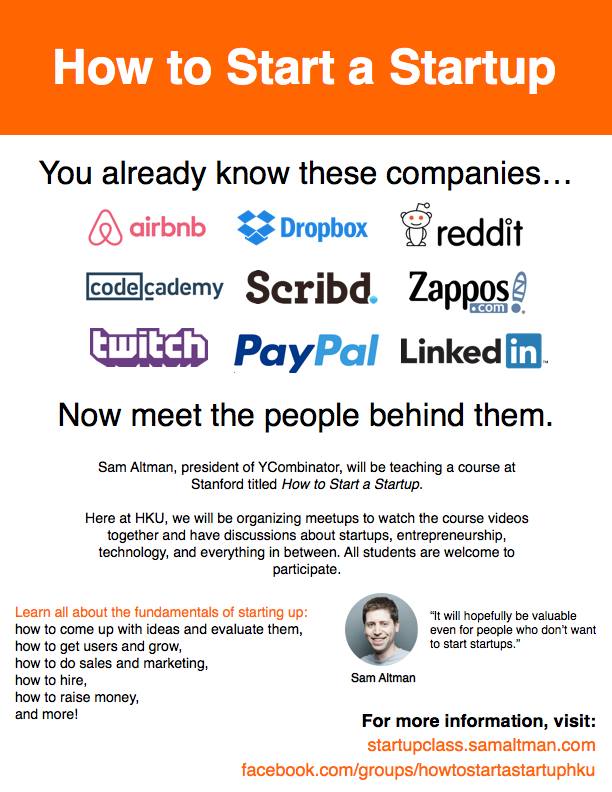 A final-year Journalism and Computer Science student at HKU. News and Internet junkie with deep appreciation for the performing arts. Favourite music genre: retro, house.

Latest posts by Natalie Lung (see all)