by Natalie Lung | Photo credits: Natalie Lung and Chao Cao | 27 May 2015
TecHKU is back at the Faculty of Engineering's Advanced Robotics Lab, where we covered the Atlas robot, the DARPA Robotics Challenge team, and the M2 Robotics team. This time, we spoke to the undergraduate team representing HKU in the first ever Amazon Picking Challenge at the upcoming International Conference on Robotics and Automation (ICRA) 2015 in Seattle, Washington.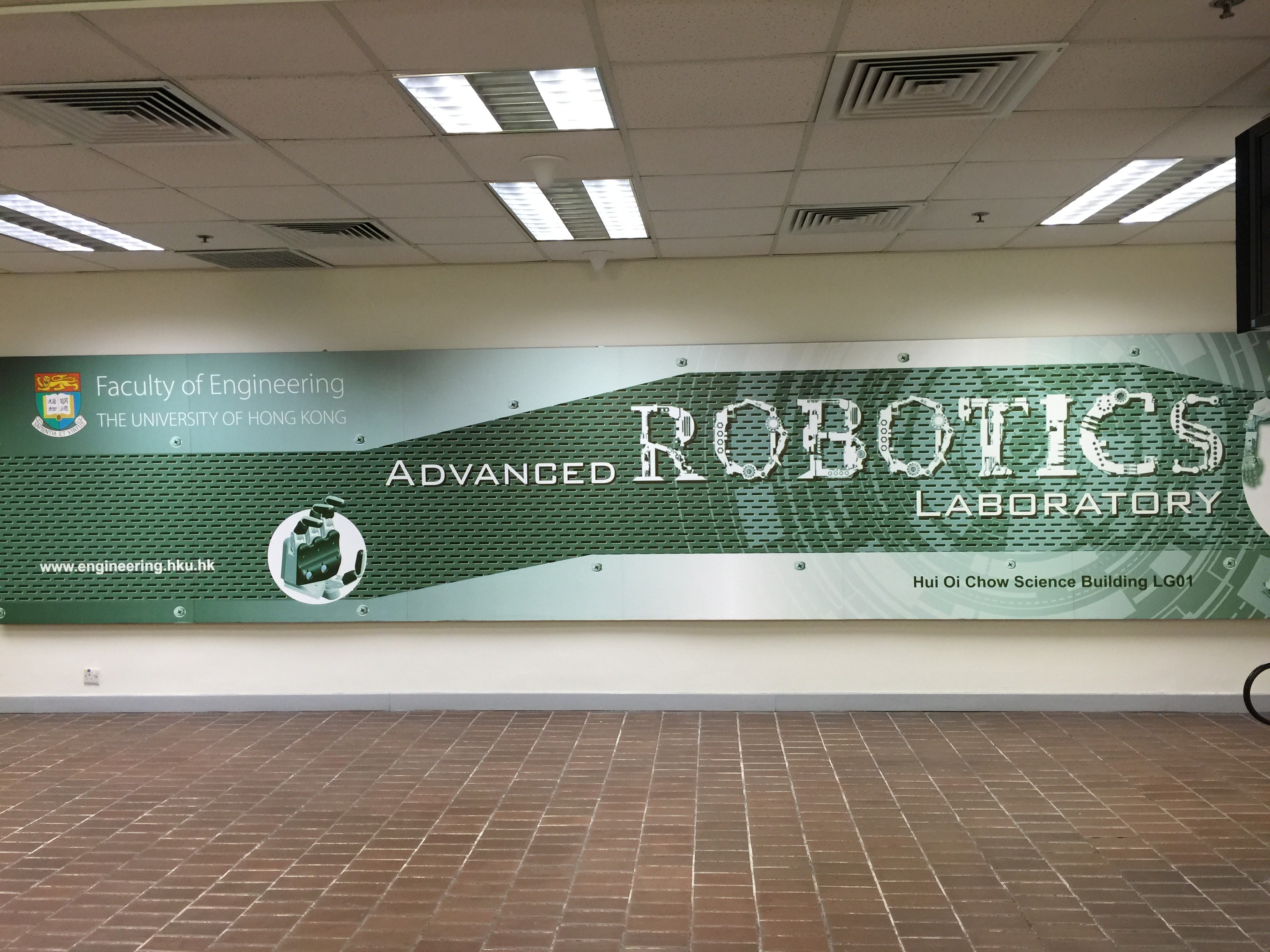 The four Engineering undergraduates, Marco Chow (MechEng Year 3), Tommy Hu (MechEng & CS Year 3), Yibo Chen (EE Year 3), and Chao Cao (CE Year 2), are part of Team Ali baba, a HK-Shenzhen-US development team that is working on a robot that will be competing against 31 other teams this week.
Handling millions of orders worth $61 billion a year, Amazon's massive warehouses have been known for its highly automated environment, with orange Kiva robots zipping around tall yellow shelves to manned workstations. Such automation have allowed warehouse workers to get through more customer orders. But it still takes human effort to pick the correct items from the shelves according to a customer's shopping list. This is the problem the Amazon Picking Challenge wants participants—no, robots—to solve.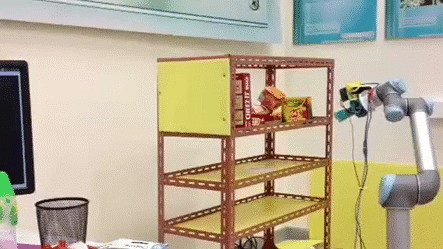 Programming a Universal Robotics (UR5) robot, the four students have been developing unique software algorithms and hardware designs for it since last December. The list from which the robot will read items off of is a subset of 25 pre-selected everyday products which you can buy on Amazon.com. From Oreos and Cheez-It crackers to school glue, outlet plugs, and dog toys, the robot will need to recognise those items, pick them out from the shelf, and carefully lower it into a bin behind it—all in a fully automated process. The team scoring the most points in 20 minutes wins.
While the Shenzhen robotics company Dorabot, Inc. works full-time on the UR5, the team at HKU is responsible for three main aspects of the robotic arm—motion planning, computer vision, and the gripper.
Cao's focus in this competition is motion planning. "The last few weeks I was trying to find out the optimal place to mount the robot so that it can reach the largest area as it can." An aspiring robotics engineer who has been in the M2 Robotics Team, Cao found the experience rewarding. "When I was working here I learnt a lot about an open source system called ROS (Robot Operating System). In the future, many robots will use this system. I think it will be helpful in my future career."
In order to let the robot "see" the items it is picking, it has to recognise the colour and depth information of the objects under time constraint. Chen, the team member responsible for computer vision, said accuracy is the most challenging part. "Some boxes look alike. The cameras need time to detect the object. If they don't have enough time, they will give an error," he said. Expressing excitement towards attending his first robotics conference, Chen said this is also his first time designing real-time vision for a robot. "Prior to this project, all things I learnt in computer vision are all from books and papers—no implementation," he said. "This is actually my first time to really [get my hands on] some projects."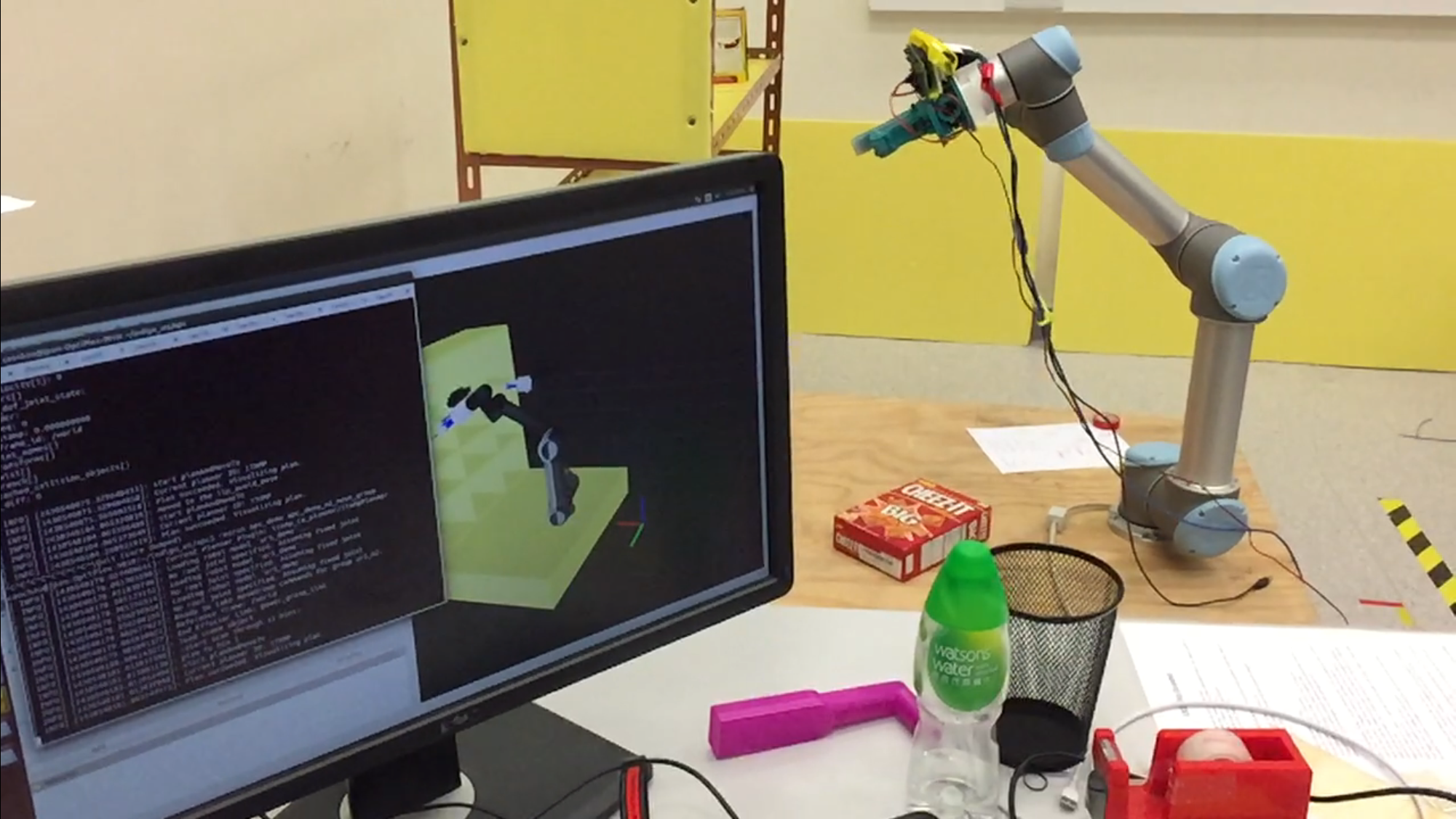 Under the guidance of Dr Zheng Wang, a new Mechanical Engineering staff recruit for the Faculty's Advanced Robotics Initiative (ARI) whose research interests include soft robotics, Hu said the gripper is what makes their entry unique. "The gripper [Marco and I] are working on now uses pneumatics. It mimics how your arm muscles work by contracting and pulling on a tendon that eventually closes the hand around the object," said Hu. "You need a lot of advanced sensors so that you're not grabbing [the item] so hard that you're crushing it."
Apart from their interest in robotics, the team said it is also under the advice of Dr Jia Pan that they have joined the competition. Like Dr Wang, Dr Pan is a new staff recruit for ARI specialising in Computer Science. His PhD advisor from UNC Chapel Hill specialises in path planning optimization and is helping the HKU team.
The competition, which has commenced yesterday and will last till Thursday, attempts to facilitate communication between industrial and academic robotics communities. "I hope to know the trend of robotics," said Cao. "And also to have a chance to talk to professionals and other teams to see how they achieve the same goal."
We wish Team Ali baba all the best at the Amazon Picking Challenge!

A final-year Journalism and Computer Science student at HKU. News and Internet junkie with deep appreciation for the performing arts. Favourite music genre: retro, house.

Latest posts by Natalie Lung (see all)