by Donald Lam | Photo Credits: The CloudNG Team | June 17, 2014
I met Wilson Chandra, a graduating senior, in the Composite Building Mac lab and he showed me his final year project (FYP). I recognized it immediately because it was one of the projects that received honorary mention in the annual FYP competition, getting the third place overall.
You can tell CloudNG is Wilson's baby. He talks about it most fervorously. CloudNG is basically a personal and privately hosted cloud. It is the software and interface for a multifunctional server that you can set up at home. Imagine a dropbox clone but instead of uploading your files to the servers of some company, your files can stay at your home. Here are a couple of screenshots of the CloudNG webapp:
It syncs your files: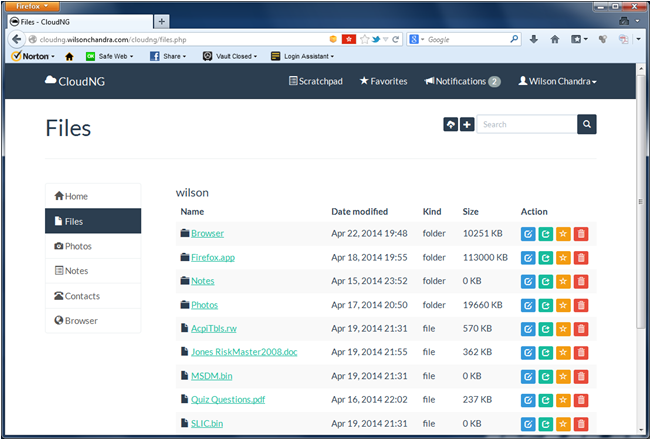 And your contacts: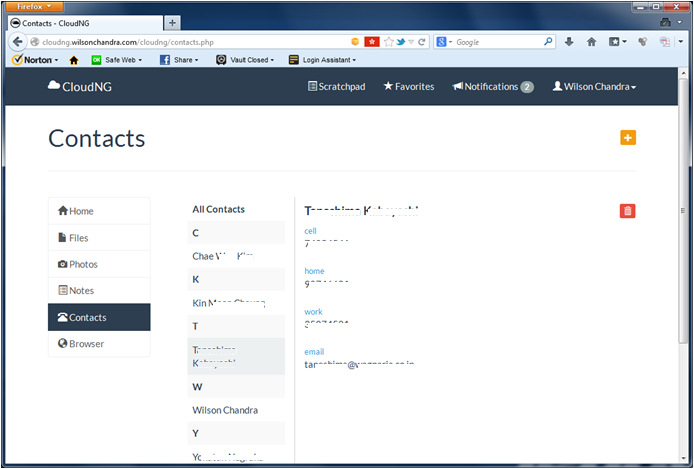 Your calendar: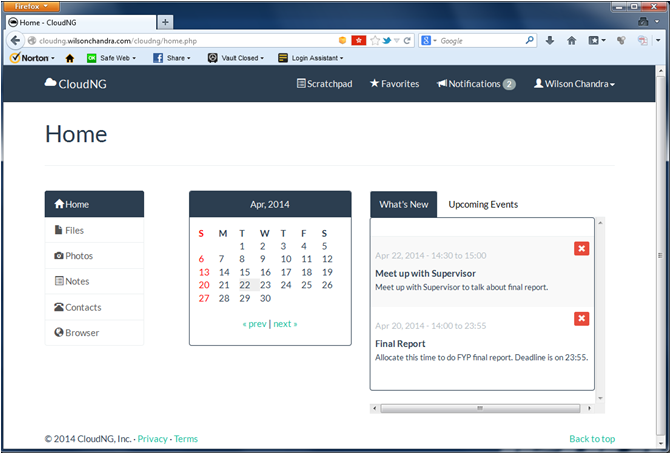 And your bookmarks: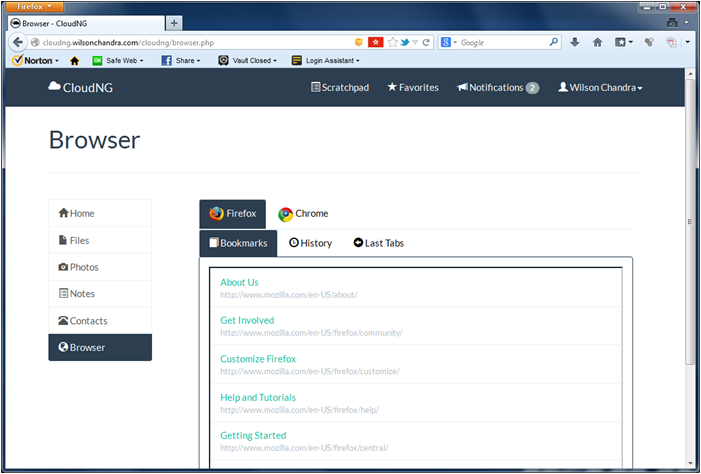 This may not be the newest of ideas but the design and execution of CloudNG is beautifully done. The interface is clean, gorgeous and looks suspiciously similar to the dropbox web portal so it is familiar and easy to use.
Built with a standard open source Apache server, the MySQL database is so widely supported that you can sync from practically any device or service. CloudNG therefore inherits great compatibility and the team built a detailed user guide on how any user can quickly sync up the data from their PCs, Macs, tablets or phones. You can even type in the address in the file explorer or finder of any PC/Mac, and your files would show up as if they are locally stored after a password prompt.
I asked him how long did it take for him and his teammate to build it, only to get the hilarious response of "We procrastinated until almost January…", so only three months of after school hours.
You can actually sign up for a 1GB test drive of the CloudNG service right now. This is hosted on a faculty server and could be taken down in later years, but you do get to play with it. (link)

The CloudNG team imagines that in the future, we would all have a little black box at home with CloudNG installed, hooked up to the internet and streaming our files anywhere we want them.
There is still a lot the team wants to add to CloudNG. Streaming media, running third party apps, more social network functions, enabling an online document editor, etc. It will look very mature and poised to take on real world competitors soon. You can see a detailed comparison of the current functions of CloudNG versus current products here.
Contact the developers:
Wilson Chandra: admin@wilsonchandra.com
Yonatan Nugraha Toemali: ynt1993@connect.hku.hk

Editor in Chief
A second year student in Computer Science at HKU. He owns a Nokia phone and is a bit of a Microsoft fanboy in denial.
dlamty@gmail.com

Latest posts by Donald Lam (see all)