Seminar for Gifted Students
Posted by

Categories

News & Events

Date

2009-08-14

2009-08-14

2009-08-14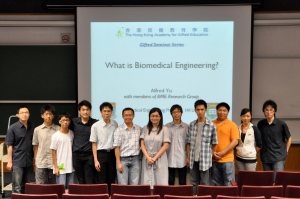 To introduce secondary-school students in Hong Kong to the field of biomedical engineering, the Programme Office organized an outreach seminar entitled "What is Biomedical Engineering?" on August 14, 2009 (Friday) at HKU campus in collaboration with the Hong Kong Academy for Gifted Education (HKAGE). There are over 40 gifted students join this occasion.
The seminar was delivered by one of our core faculty members, Dr. Alfred Yu, and a team of postgraduate students working in biomedical engineering. In the plenary session, the participants were given an overview of biomedical engineering and its various branches. It was followed by two interactive mini-lessons that gave participants a hands-on opportunity to try out medical ultrasound scanning and electrocardiogram measurements.
Through this seminar, participants were able to develop their own working definition of biomedical engineering and give some examples on the societal impact of this discipline.