by Aman Gupta | Photo credits: Microsoft News Centre | 16 July 2015
Now that I am back home and surrounded by four computers, I have finally installed Windows 10 Technical Preview on one of the machines. It is the 100130 build on a 64-bit system without a touchscreen, and I just installed the Office 2016 Preview. In fact, I am writing this article on the brand new operating system (OS) and word processor!
As one can expect from a Beta Build, the Windows 10 platform still has quite a few glitches and limitations. Microsoft has fixed most issues and all the native apps that will come pre-installed with the release to manufacturing (RTM) version are now available. Some of the apps do shut down unexpectedly and "snapping" some of them can cause resizing issues. Nevertheless, Windows 10 seems to be an amazing OS and hopefully the Microsoft wheel of one incredible release preceded by an unappealing one will continue.
Most of us are aware that Windows 10 will be free for owners of Windows 7 and later versions and up to one-year subscription for non-genuine copy holders which makes this a big deal. Adoption rates should be significantly high especially after Windows has installed a sign-up application in all the consumer machines using Windows Update.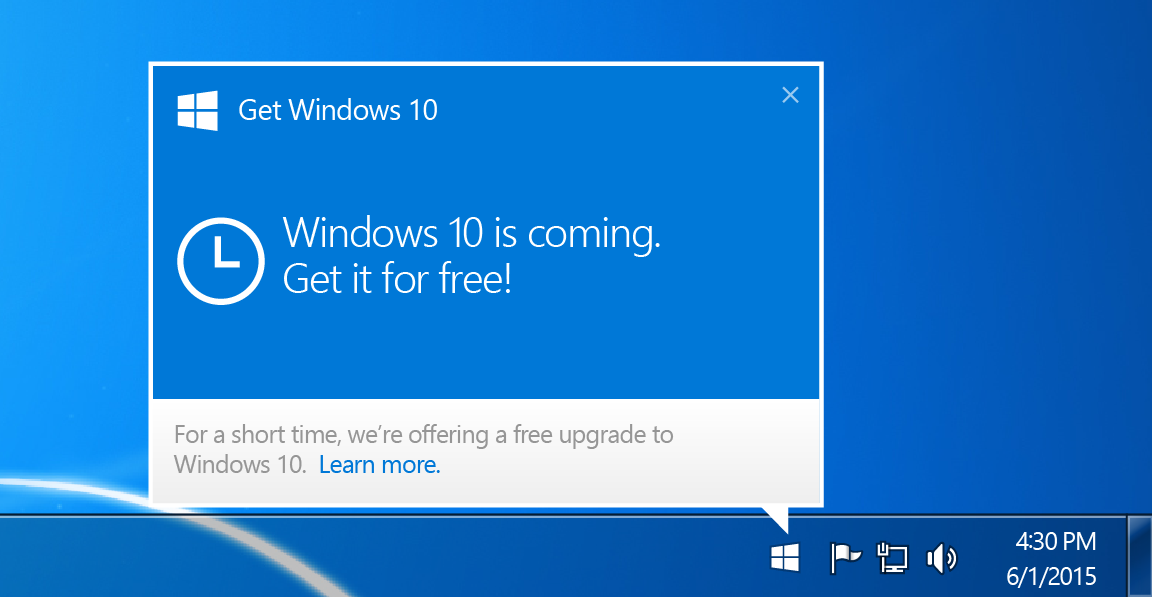 Windows users may have noticed a new icon in their system tray prompting them to reserve a copy of Win10.
In my honest opinion, people who want a solid, non-buggy build should not sign-up for the Day 0 update since the history of Microsoft and Windows reflects that the engineers will take at least a month, post the initial RTM release, to give you a stable Windows Experience.
However, the user interface and features of the new Windows 10 is state of the art. Borrowing from Linux and OS X, Windows 10 will finally have multiple desktops to work on, making it easier to multi-task and it will have its own notification bar as an extension to the banner notifications we saw in Windows 8. Cortana has been ported from the phone and now it endlessly extends functionality on your PC with web and computer searches along with the usual virtual-assistant feature.
The Start menu and web browser make a comeback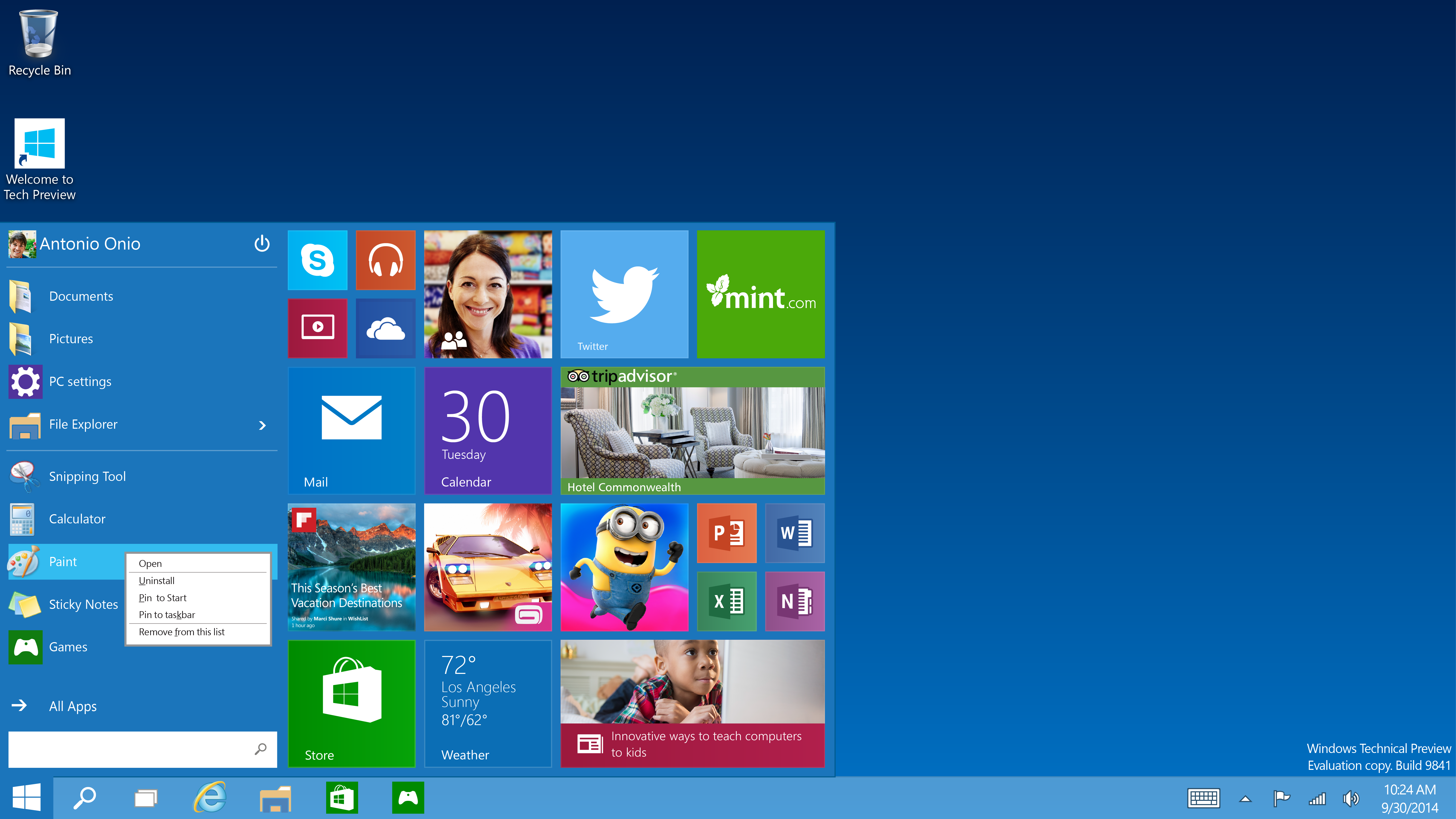 However, like every other Microsoft fan-boy, my favourite feature is the Start menu. It is back, and it looks beautiful. Microsoft has perfectly merged the functionality of the Windows 7 Start Menu with the Metro user interface of 8.1. It is fast, efficient and really beautiful once you pick the perfect accent colour.
The new web browser, Edge, is actually cutting edge! Although it is still named Project Spartan on the Preview, it is faster, smoother and revolutionary not just when compared to the Internet Explorer, but even the industry standard, Chrome. Despite the fact that I am testing it on a Desktop without a touch-screen, with the note taking functionality and the amazing OS integration, there is no reason to install Chrome in the computer. I do miss the extensions, but they will come eventually in the final release of Edge.
The Store, Settings, Music and Photos apps have refreshing designs and great utility. With OneDrive integration everything is interconnected and if you own several computers , your Windows Environment is going to get a whole lot better. Although the revolutionary new Windows Store has become an one-stop-shop for Music, Movies, Apps and Games, the Mail or People apps are not a significant improvement from their previous incarnations in Windows 8.1; you cannot improve an email client further than that; however, Calendar is efficient and fast and with Cortana integrated in it, very smart.
Office 2016: Improved OneDrive integration but no changes in UI
I also had a chance to install the Microsoft Office 2016 preview and frankly it is a major disappointment in terms of user interface overhauls. If you are advancing from Office 2013, you wouldn't even notice the difference in Word 2016 since everything is the same barring a few improvements. There is a help-box of sorts on the ribbon which understands "Natural English" and is a quick way to get through all the clutter of Word or PowerPoint.
Microsoft has also improved OneDrive integration. Back in Office 2013 when you wanted to save a document in OneDrive, the program would query the server and obviously take a lot of time to open the OneDrive directory and then save the document. Microsoft has changed that and now the Office Apps save the document in the OneDrive directory on the machine and then sync with the cloud. This saves precious time and, that's how I used to save my documents on OneDrive even in Office 2013.
Some readers will be left disappointed with no mention of Windows Hello (my Desktop doesn't even have a microphone – forget a high-tech webcam). I have also not mentioned the Xbox App, since I am not aware of its features.
This is just the tip of the iceberg and Windows 10 has certainly more to offer. I cannot wait for July 29th when I finally get to install it on my everyday laptop and Tablet, so I can experience features like Continuum and enjoy the touch functionality of the OS.

An everyday tech-enthusiast who runs his own blog, listens to rock and spends more time on 9GAG than reading books. Doesn't understand the idea of playing sports on gaming consoles but loves FPS games. Follows too many TV series and studies engineering (in his free time) - Computer Science usually and sometimes also finance! That is me. *yawn*

Latest posts by Aman Gupta (see all)
The opinion and views in this article are that of the authors and do not reflect the opinion or views of The HKU Journal of Technology, or the TecHKU Editorial Team. You can comment below to let the authors know what you think.
To submit an opinion piece of your own, send an email to techkueditors@gmail.com or use the contribute button on the top right of this site.