by Kiran Gobindram | Photo credits: Department of Computer Science, HKU | 27 June 2015
There was no dearth of innovation and determination in the five teams at the Department of Computer Science's Final Year Project (FYP) competition held earlier this month.
The competition is held annually in an attempt to showcase the outstanding projects by soon-to-be CS graduates, providing them with a platform to deliver their inventions and business ideas to a wider audience. Final year projects are a compulsory part of the assessment to graduate from the programme, but only the year's best projects are invited to compete in this competition.
All groups tried to incorporate ideas and techniques that went beyond their in-class knowledge. This was particularly evident in the champion group, which built a 3D-printed and smartphone-programmable Hexapod robot. The development of this robot required knowledge from all fields of engineering including mechanical and electrical, and it also incorporated elements from the fields of design and architecture.
Digging deeper into the Hexapod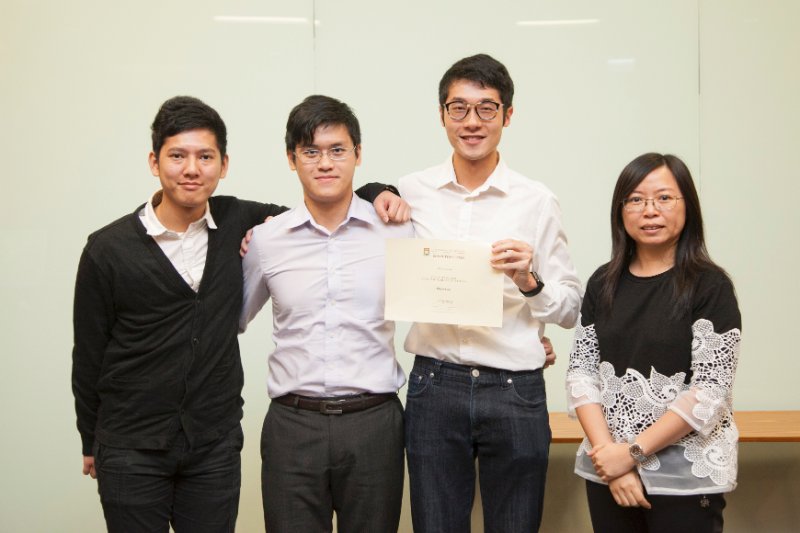 The champion team – (from left) Ng Siu Lung, Sherman Lee Siu Man, Terry Yip Sit Wun (absent: Arrack Lai Chak Yui)
The vision and aim of this group was to enable the Hexapod to strengthen security and aid in rescue missions in the defense and safety sectors. Considering that earthquakes and other natural disasters have been striking more often all over the world, the group developed an interesting solution to make rescuing more efficient and successful. These mini robots will go underground and through tiny spaces to identify areas of danger and find appropriate solutions.
In terms of architecture and design, the group used 3D printing to design the body and structure of the robot. 3D printing is not as simple as it sounds, as the amount of balance and force that is applied to the robot has to be carefully considered.
Since all group members were Computer Science students with no background in Mechanical Engineering, they had to learn from scratch about SketchUp, a 3D modeling and printing software. The group went through several rounds of trial and testing before developing the perfect size, thickness, and structure of the robot. The finalized design has a plastic body with six legs and stabilizers attached behind them. The group was satisfied with their product only after completing nine strenuous months of designing! Their hard work was recognised by the judges as they were the only group that went beyond writing a proposal and prototyping.
SecureDB: addressing the issue of security in the cloud

Eric Lin (left) captured the first-runner up prize.
The first-runner up explored the common security issue of sharing highly confidential information on the cloud. Nowadays, cloud facilities make sharing and exchanging information a lot more convenient. But in such a sharing arrangement, security of information is not guaranteed. This often prevents companies from making maximum use of these facilities.
Developed by Eric Lin, SecureDB is a new plan in which data is encrypted based on secret sharing. Data is separated into two shares, one is kept by the server and the other is kept by the user or client. To retrieve data, the party would need both shares of information. The advantage of SecureDB is that it will be able to process a wide range of queries efficiently and a greater cost is shared by the server.
With a plan to transforming the research result into a mature product, Eric hopes to gain support from a wider community and be able to launch this idea into the technology market.
The other three groups made tremendous efforts in their part. Their projects included the development of applications that connected preexisting devices such as Google Glass, an educational application that makes coding far more interesting, and a test-grading software for coding exercises that makes professors' lives easier. These groups expect that their hard work will be recognized by business professionals and financial sources in order to receive funding to take their projects a step further and actually release their ideas into the world.
Participants believe that this competition has allowed them to better understand and exchange technology-related information with their fellow classmates. Since some of the equipment and tech resources (like Google Glass) were outdated and time was limited, most groups believed they would have otherwise been able to expand their creations further. These groups expressed their strong will to inspire the incoming and current batches of Computer Science students and allow them to carry forward and develop on their current projects.
TecHKU wishes this year's graduates all the success in their future endeavours and congratulates them for their innovative projects and novel ideas!

Kiran Gobindram is a second year accounting and finance student at HKU. She can't live without coffee and ice cream. She's interested in designing and hopes to be a wedding planner someday.

Latest posts by Kiran Gobindram (see all)