by Michelle Wong | Photo credits: Natalie Lung | 4 February 2015
Michelle Sun has shifted from the financial industry to the technology field. In 2013, she started First Code Academy, an institute that teaches young children to code and create their own mobile applications. The 28-year-old is now an engineer, an entrepreneur, and a teacher.
Sun is a typical elite. She achieved nine A's in the HKCEE and graduated from the University of Chicago. Just as most business students would pave their way, she entered Goldman Sachs after graduation and was ready to hustle through the financial world.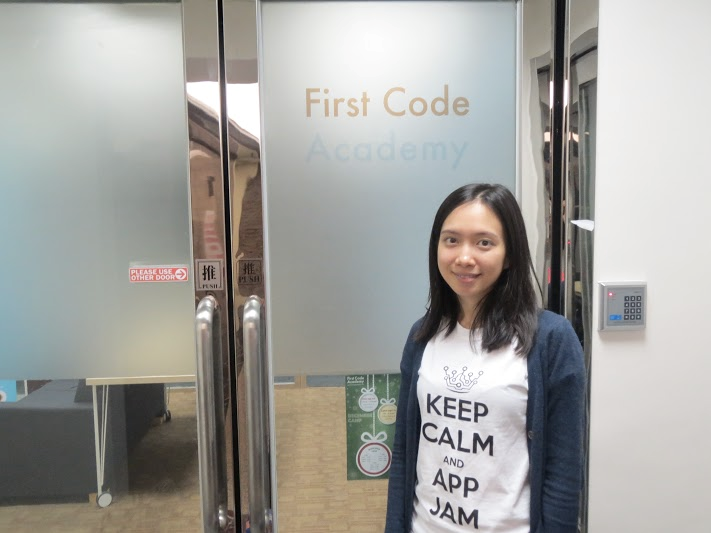 Michelle Sun, the founder and CEO of First Code Academy.
It was until one life-changing experience had Sun completely immersed in the technology industry. It was a 12-week women-only coding camp at Hackbright Academy in the United States.
The life-changing lesson
Sun said the camp and its learning environment was tremendously helpful to her. "I would never have gone to a course if it's like a regular boot camp with 10 percent women and 90 percent guys," she said.
She was very much thankful to Christian Fernandez, the CTO and instructor at Hackbright Academy, for his teachings. He has helped students go from having zero programming knowledge to landing a job at Facebook after 12 weeks — even Sun herself proceeded to the final round of interview.
For nine months before the camp, Sun tried to pick up coding by reading books but was unable to figure it out. Fernandez has helped her piece things together and explained how each piece work.
Fernandez had been working as an engineer at Silicon Valley for many years. The local industry is very often commented as a "white-male" place. He always felt the gender balance of the industry is a gap that needs to be fixed.
"I think it's really inspiring that he has a vision to fix something," said Sun, "[he] fixes a problem in his community and starts up this business that has impacted so many people."
Starting her Venture
After completing the coding camp at Hackbright, Sun was hired by Buffer, a potential start-up at Silicon Valley. She found Buffer a place she enjoyed working and admired so much. Leaving Buffer to start First Code Academy had been an onerous decision for her.
"The concern was that I had never really run a business before, and I didn't know what to expect," said Sun. At last, she decided that starting First Code Academy goes for a better plan to combine her interest in technology and passion for teaching kids.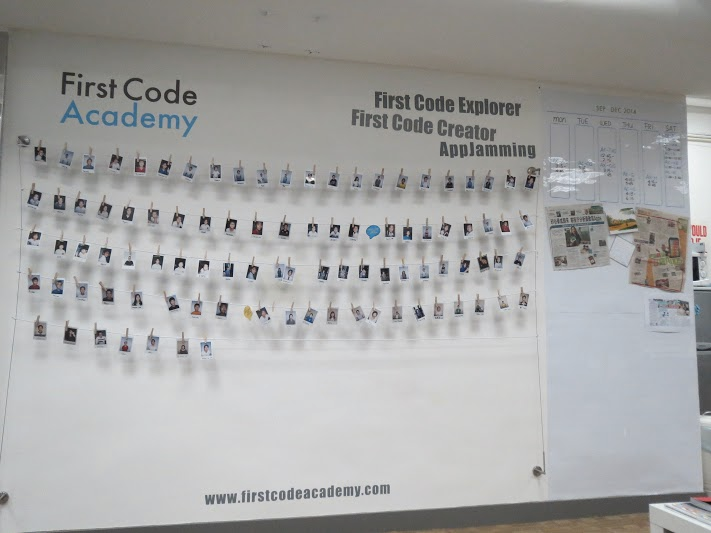 Photos and names of students are displayed on the wall at First Code Academy's office in Wan Chai.
Sun had learnt a lesson from her previous experience in helping a friend in a start-up that eventually failed. She felt more vigilant about financial planning and risk controlling ever since.
Nonetheless, she felt fortuitous for having this business model for its very minimal start-up cost. She can easily put off a class when it does not recruit enough students. It made her less stressed to constantly fuss over profit and loss.
Being an engineer before has geared her the skills to break down problems. From debugging to tackling business crisis, she thought through problems like a computer scientist.
As an entrepreneur, Sun often has to work on new tasks that she had never done before. "One day I'm looking at finance, the other day I'm teaching curriculum and the next day I'm working on marketing," she said.
However, being an engineer before has somehow limited her chances to meet and interact with people. She worked remotely with her teammates from all over the world. That made her hard to know her teammates well or work with them very closely.
At First Code Academy, she found her major fulfillment from interacting and talking to students. "I don't usually think of myself as the teacher, but actually their partner to help build their products," she said, "I think that part really makes me happy." She blissed out seeing her students succeed.
"Teaching is one of the best ways to learn," said Sun. Being an engineer is about getting really competent at a skill that the company product requires to develop. But as a teacher at First Code Academy, learning is not limited to a specific knowledge but multiple products that her students are creating. "I'm learning broader things now whereas before, I learnt one thing very deep," she said.
The female engineers
Sun too returned solutions to the gender balance issue in Hong Kong technology industry. She is now the co-founder of Women Who Code HK and technology advisory council member at the Women's Foundation.
"Having more diversity always helps," said Sun. She gave Pinterest as an example, an application that allow users to compile any information they dig up from the Internet. 70 percent of its users are female. When a company is building a product for some middle-aged mothers, the team certainly needs more perspectives than just a gang of white men. "I think it's better for everyone, like you get sit next to someone that is from a different background," she said.
Sun said one of the bright sides of being a woman in Tech industry is that there is lots of support offered only for females. For instance, Women Who Code is a global community that involves over 20 cities in the world now. It is all volunteer-led groups that assemble female engineers together.
At First Code Academy, girls do not take up a large percentage in Sun's classes either. In general, girls' percentage in a class is around 15. In classes of younger age, the percentage can go up to 20 or 30.
Sun explained that there is an apparent shift of mindset when girls progress from primary school to secondary school. "I don't know what our society tells them," said Sun, "they suddenly feel that they have to do girls' things."
Sun thinks boys and girls do not have significant difference cognitive-wise. However, young girls do concentrate better and pay more attention to detail than young boys.
In September, First Code Academy collaborated with TecHKU to hold Girls4Tech, an event that aims to trigger secondary school girls' interest in computer science.
"I think that was one of the best sessions that I had, teaching a big class." Sun said. She was impressed that everyone was able to complete their own mobile applications in the end.
Empowerment of coding
Sun thinks coding can empower the children of the new generation. Children nowadays grow up with devices surrounding them. Mum's smart phone, Dad's laptop, and probably a tablet too. To these children, computers should no longer be something —they go to parents—- when it breaks down. "Having some ideas on how these devices work feels like you are controlling this instead of having this unknown thing controlling you," said Sun.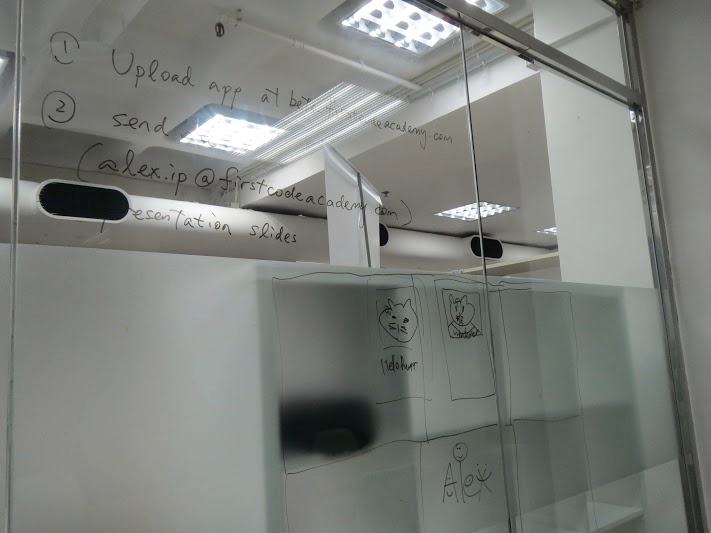 Students drafted on glass surface before typing codes on computers.
Sun said children should not just stay at the receiving end of information, but go beyond creation. With coding, children can easily design useful applications for their family and friends. "We open up the door for them and they can dig deeper to learn different concepts and languages," she said.
Sun clarifies that coding is not only for people who are good at Mathematics. Being logical is actually the confounding factor that leads to both Mathematical sense and coding ability. "That's a huge misconception," she said, "the only math I've ever done in my previous job as a full-time engineer is like plus or minus, and then the computer does everything else for us."
Seeking like-minded talents
When it comes to hiring, Sun is looking for someone with potential and an adventurous attitude. Start-ups are fast changing and everyone in the team does different things everyday. "We want people that can like throw them into the water and learn to swim," she said "it's not an environment for everyone but I think some people really like that."
Born and raised in Hong Kong, Michelle Sun has given up the mainstream for greater deeds. Being in the minority of the industry had never held her back from pursuing a career of her real passion.

Michelle Wong is a journalism freshman at HKU. She loves travelling, loves music, and is fascinated by the state of art.

Latest posts by Michelle Wong (see all)