by Yu Tak Fan Catherine and Chen Lili | Photo Credits: MTR Facebook page, Ginny Tai | Special Thanks: Anne Kruger | 13 August 2014
Working for the next big infrastructural project for the city is the dream of every civil engineer. Ginny Tai, an HKU civil engineering graduate of 2012, is living this dream.
Ginny received an offer after her graduation from Leighton-John Holland Joint Venture, a company participating in the construction of the MTR South Island Line (East). The rail line when completed will connect Ocean Park and Admiralty in 4 minutes. The 24 year old engineer is also currently pursuing a part time masters degree in Infrastructure Project Management (MSc(Eng)(IPM)) at HKU.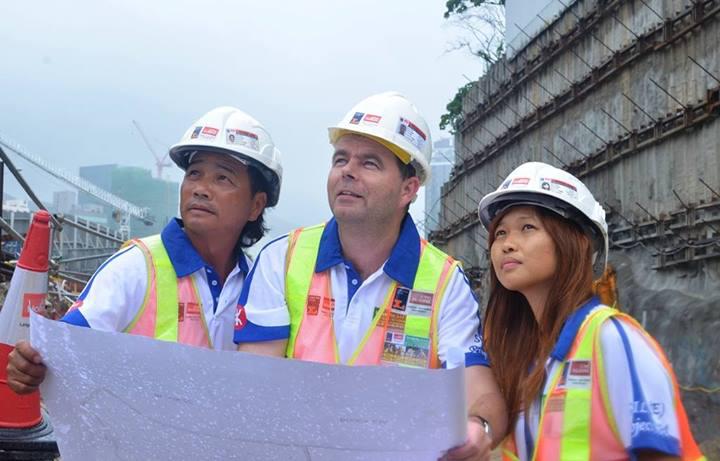 Ginny (first right) working on site for the MTR Project, along with her advisors.
Working with explosives… and losing weight
A job as a contractor means long hours of planning and on site work that is physically consuming. "I've lost about 20 pounds since working on the scheme," said Ginny.
Now she is mostly working in the tunnels of this rail line. "After the construction of the tunnels has been planned, my seniors and I will be spending most of our time working on them. We need to observe the environment underground and figure out the materials of it, like soil, rock or concrete etc. and then use the appropriate types of explosives to start the tunnel," said Ginny.
Working in tunnels with explosives is dangerous, but Ginny chose to take the risks and work under this environment. "I want to complete the whole project, from planning to constructing, from nothing to something. The outcome of the project is my baby. You gain a great feeling of success at the end, because you have been working on it for months and overcome so many challenges."
Even though there is a plan, one can never expect what is going to happen next, especially in an underground environment. "At one time, my seniors and I stopped the works in the tunnel because there were water pipes blocking the way we have planned the route, so we had to solve the problem and find other ways to continue before we go further on. Encountering problems as such is challenging, but you are learning from them at the same time," said Ginny.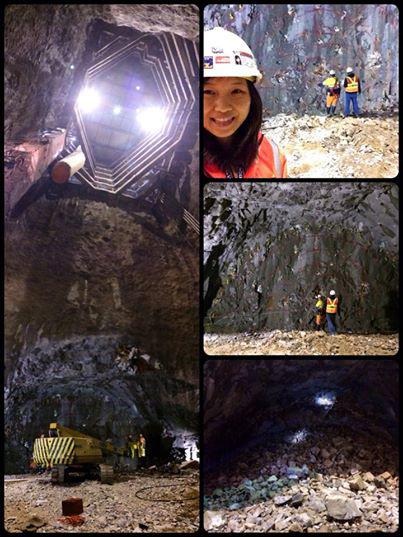 Ginny working inside the tunnels under the MTR Project.
A reluctant engineer falling in love with the job
Being an engineer has not always been her first choice. Ginny applied for civil engineering simply based on her good A-level results in sciences. Surprisingly, she did not love it whilst in university. "The workload was huge and boring at times. This kind of depresses me because it was not easy to get in," said Ginny.
After graduation, Ginny even had thoughts of giving up on a future in engineering. "I had applied for other positions such as a police or customs inspector, but I did not receive the offer that I wanted."
"So I started sending out my CV to a couple of engineering companies just for trying out, and then Leighton offered me an interview," said Ginny.
"I remember the interview was very chilled and relaxed. They have a motto, which is "Work hard, Play hard!" Leighton gave me an offer straight after the interview and here I am," said Ginny.
Ginny's first piece was relocating the bus terminal in Lei Tung. "When you see the people use what you have built for them, that feeling is amazing and indescribable."
Her job has now become her identity and she looks forward to it every day. "Since I joined the company and knew what it is really like working as an engineer, I fell in love with this job."
A Man's World?
Most of her colleagues and senior advisors are men, and yet, Ginny has no problems in communicating with them. "there are a few girls around like me as well. We get along very well and work together as a team."
"People might think that female engineers have to be tough and strong to do the heavy lifting work on sites. Yes, we will have to do some of it, but most of the guys are willing to help, so there are advantages for being a female engineer."
Not only participating in the MTR Project, Ginny has also gained an award from the Contractors' Supervisor Safety Award at the last Quality, Safety, Environmental and Stakeholder Engagement Award Presentation Ceremony for her dedication to details. "Safety is always the top priority in construction, and that's what my colleagues told me on my first day to work," said Ginny.
The choice in her graduate offer
Ginny is now on a three-year graduate trainee scheme "Scheme A" after which she can apply for a professional license from either the British Institution of Civil Engineers (ICE) or the Hong Kong Institution of Engineers (HKIE).
For this scheme, Ginny had the choice of either work as contractor on site for two years and then a year as a consultant in office, or vice-versa.
She chose to doing more on site work as a contractor for two years. "I'm not the type of person who can sit in the office and work on reports for the whole day. I'm a sporty, active and an outdoor person, so spending more time to work on sites would be the best choice for me," said Ginny. These days Ginny only needs to write a 300-word report every month and a 1000-words review every three months based on what she has been working on.
Ginny will be graduating this year from her masters degree and ready to set off to Malaysia to fulfil her year working as a consultant. It won't all be office work though. "I will be travelling around to other countries nearby Malaysia during weekends, remember 'Work hard, Play hard!'? And after that I'll be applying for the ICE license and continue with my engineering journey!"

Catherine is a final year student in Arts. Born in HK, studied in UK. Still believes that she's meant to be a scientist even though she's an arts major.
catherinetfyu@gmail.com

Latest posts by Catherine Yu (see all)