by Tony Chiu | Interviewers: Tony Chiu, Donald Lam | Photo Credits: Tony Chiu | Also Contributing: Hiko Cheung | 6 April 2014
An HKU engineering final year project back in 2009, iClass has grown into a fully fledged e-learning solution with over 15000 users locally and 70 users overseas.
We interviewed Eric Au Yeung, Ken Law, Alan Chiang and Paul Wong, the iClass HKU alums who now work at their own company IT Wake Limited in Cyberport, and actively looking to expand the business to Shanghai.
The Process of Development
So how did it all start?
iClass: The muse of the iclass project was actually the CBC lecture room in HKU Chow Yei Ching Building. There are buttons on the seats of that room which serves various functions in lectures, allowing for example a professor to ask a question and get immediate feedback from students in a multiple choice.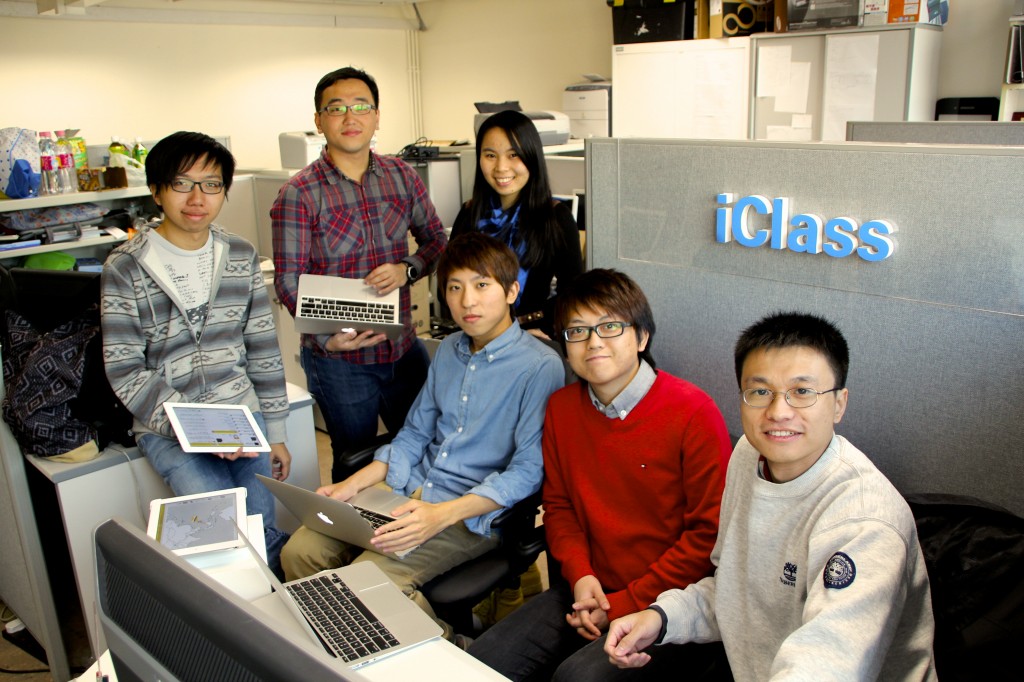 Alan Chiang, Paul Wong, Viki Lei, Ken Law, Eric Au Yeung, and Alex Yi; the core members of the iClass team.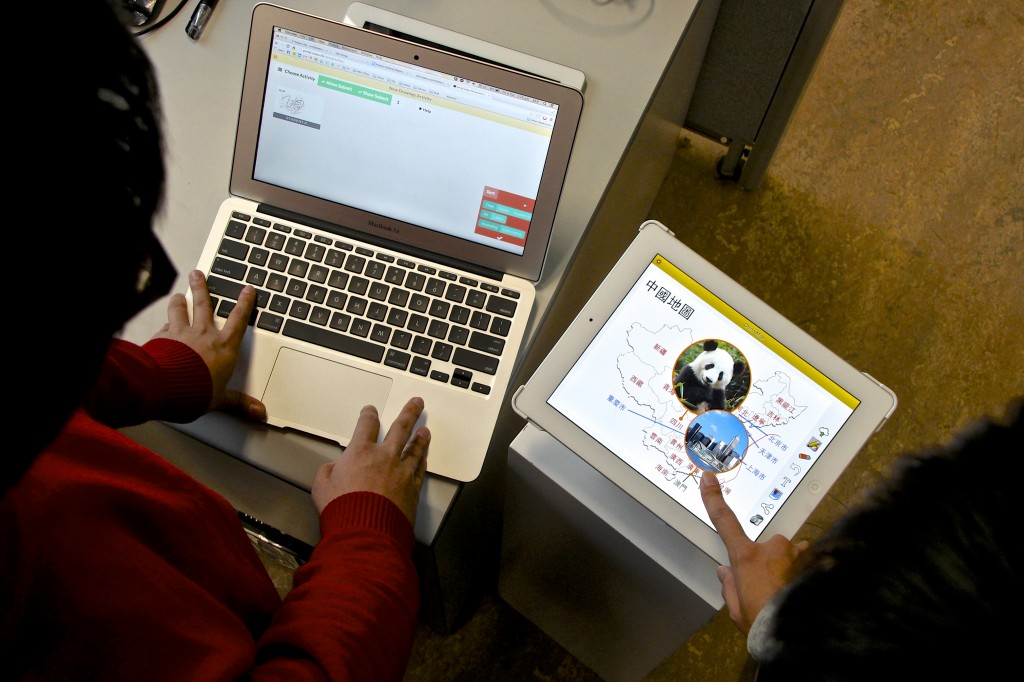 iClass in action. The web app and on iOS.
We realised that these functions could be transferable to a mobile app. So we got cracking.
How did you manage to turn the project into a business?
iClass: We thought the project has a lot of commercial potential so we continued to work on it after our graduation. Half a year into the project, companies such as Ming Pao began to take interest in us. We went to the HKU Technology Transfer Office in Cyberport to set up a company and commercialize our project. By March 2012, we were able to get funding from the Cyberport Creative Micro Fund to expand.
Today, we have members working full-time and part-time on iClass. We even take HKU students in regularly, so that they could work on campus.
Advices for Startups
iClass: When you are an undergraduate, your ideas truly belong to you. You won't be guaranteed that in a workplace. Make good use of your projects. It is important that you do not waste your projects on something that is just for passing time. There are many helpful resources you make use of at HKU.
If you want to learn about starting a businesses, you could enter entrepreneurship programs, such as those by the Technology Transfer Office. They give you weekly tutorials on theories regarding startups, and they regularly invite entrepreneurs in to give you useful advices.
If you need funding, you could look for them from Cyberport. The Cyberport Creative Micro Fund that we got for example, was up to HK$100,000 of grant. If they find your project or pitch interesting, you will also be able to enroll into their incubation program, which provides training, office space, and sponsorships for overseas exchanges.
More About iClass
How do you differentiate it with other popular systems, such as Moodle?
iClass: Moodle is more about submitting your coursework and getting your lecture notes. iClass is more about enhancing interactions during lectures. We offer better mobile support, native apps, and we are able to make use of these technologies to create quiz functions and drawing pad functions, etc., and sync them in real time.
How has iClass changed the way lecturers and students interact?
iClass: The revolution is in the speed of exchanges and interaction possible with iClass. distributing quizzes and class work is massively improved. In the past, if you were distributing a class assignment, the whole process of distribution, work, submission and marking, may take about 3 to 4 days. Now, because all those procedures are automated, it takes just 5 to 10 minutes. On top of that, lecturers can now analyse results, such as common mistakes, instantly.
What is the major selling point of iClass amongst e-learning solutions?
iClass: The user-friendliness. We even asked a group of elderlies, who did not even know how to use an iPad, to try our app and they picked up very quickly.
We try to make our systems as easy to use and as intuitive as possible. We also provide excellent support, for example holding tutorials and workshops at the HKU Centre of Enhancement of Teaching and Learning (CETL) specifically to teach teachers to use iClass.
How many people are using iClass now?
iClass: Today, we have over 70 members and 15,000 users, from overseas and Hong Kong. They are mostly primary schools, but we have secondaries and universities, too.
With the exception of HKU, which uses our service free of charge, we use a licensing system. Members purchase our service on an annual basis, and they get updates once in a while.

How is the progress on implementing iClass in HKU?
iClass: We have always been recommending iClass to various departments in HKU. We set up workshops regularly to introduce our product to professors.
At the moment, a number of different courses are already using our solutions: Engineering (ELEC 2814, ELEC 6098 with Dr. Fok), Dentistry with Dr. James Choi, a medicine common core course (CCHU 9019), Journalism (JMSC 9011 with Prof. Ying Chan), and some statistics courses.
Go to our dev@HKU page to see the list of apps by the people in HKU.

Tony is a second year student in History and Journalism at HKU. He also blogs at HKYOU and many other places.

Latest posts by Tony Chiu (see all)
Note: The interview above was originally conducted in Cantonese.