What is DreamLab?
To promote innovation and entrepreneurship spirit, with tangible impact on industry and community, an Innovative Space (named "DreamLab") was developed where design concepts can be developed in an interdisciplinary or inter-faculty environment and prototypes can be made with state-of-the-art equipment. The Innovative Space located at the Research Student Centre (RSC) also provides a testing ground for cross fertilisation among undergraduate and research students, knowledge exchange with partners at different geographic locations, more flexibility for internship, and preparation for external competitions such as the Robocon Contest. The DreamLab with a small Maker-Space equipped with appropriate tools and equipment so that small hands-on work can be done.
Membership
Membership
Membership scheme is implemented for the DreamLab. All members are required to attend a safety session. Exemption of taking the safety session may be granted to RPg students who took similar course(s) subject to RSC's approval. All RPg students can become members provided that they have attended a safety session. UG students can also apply for membership with teacher's endorsement (with specification of period, project, short course, etc.).
Submission of Application
Click here to download the application form and return the completed form to Dr. Stephen Leung, Director of Research Student Centre, 5/F, Office of Faculty of Engineering, Haking Wong Building, HKU.
Location
Mezzanine Floor, Haking Wong Building, The University of Hong Kong, Pokfulam Road, Hong Kong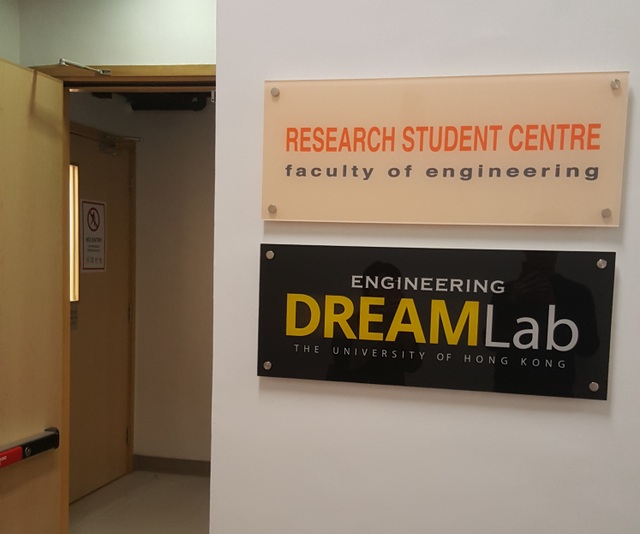 How to get to the Engineering DreamLab from Haking Wong Building?
(1)

Take cargo lift from Haking Wong Building (The picture shows the lift at 4/F, Haking Wong Building)

(2)

Press button "G"

(3)

Turn left and you will see the DreamLab on your right-hand side

(4)

Access with your University smart card

(5)

Use the staircase to mezzanine floor
---
How to get to the Engineering DreamLab from Composition Building?
(1)

Take lift from Composition Building (The picture shows the lift at G/F, Composite Building)

(2)

Press button "CP1"

(3)

Turn right and enter the doorway

(4)

Turn left and go straight

(5)

Entre the doorway on your right-hand side

(6)

Turn left and you willsee the DreamLab on your right-hand side

(7)

Access with your University smart card

(8)

Use the staircase to mezzanine floor