W. John Kao
Posted by

Date

2018-12-06

2018-12-06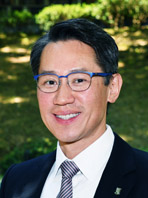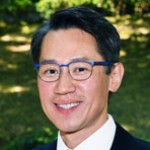 Chair Professor of Translational Medical Engineering
Li Ka Shing Faculty of Medicine
Fellow of HKIE (Biomedical Discipline)
Department of Industrial and Manufacturing Systems Engineering
Tel:
Email:
Social Media:
RESEARCH INTERESTS:
Mechanisms of cell adhesion and activation on biomaterials: to elucidate the material-modulated molecular mechanisms of cell adhesion and signal transductions leading to phenotypic expressions and cellular activation of leukocytes, fibroblasts, keratinocytes, mesenchymal stem cells that are involved in wound healing and host response.
Biomaterial biocompatibility and biodegradation: to analyze material/tissue interfacial phenomena as mediated by material chemicophysical properties, cytokines, and ligand-receptor interactions.
Novel materials for tissue engineering: to develop novel biomaterial constructs of specific biofunctions in manipulating biological responses for therapeutic applications with an emphasis on translational research and enabling technology development.
BIOGRAPHY:
Before joining HKU, Professor W. John Kao 高為元 was the Vilas Distinguished Achievement Professor of Pharmacy, Surgery, and Biomedical Engineering at the University of Wisconsin – Madison. He also served as an executive director of the Institute of Clinical and Translational Research, a consortium based in UW-Madison of multiple campus partners and research-intensive universities in the Midwest.
Professor Kao studied biomedical engineering at the Johns Hopkins University (BS), Case Western Reserve University (MS) and macromolecular science and engineering (PhD) also at Case Western. He subsequently worked at the California Institute of Technology (Caltech) andEidgenössische Technische Hochschule (ETH, Swiss Federal Institute of Technology in Zürich).
Professor Kao's research focuses on developing therapeutics for cancer and wound healing. He is an elected fellow of the American Institute of Medical and Biological Engineering, the International Union of Societies for Biomaterials Science and Engineering, where he also served as the Secretary for the College of Fellows. He is on several editorial boards and his extensive involvement with industry, regulatory and policy bureaus has enabled him to build a successful record in translating enabling technologies to the market. His platform technology is currently marketed by Sigma-Aldrich (Merck) for drug delivery and cell-based regenerative medicine.
He has published 90 peer-reviewed papers in top journals and 170 other publications including abstracts, book chapters, and patents. He has mentored more than 70 undergraduate, graduate, post-graduate students, and clinician scientists from around the world.
SELECTED PUBLICATIONS:
Complete List of Published Work in PubMed:http://www.ncbi.nlm.nih.gov/pubmed?cmd=Search&term=kao%20wj
Drifka C, Loeffler A, Mathewson K, Keikhosravi A, Liu Y, Weber S, Eliceiri K, Kao WJ. Highly aligned stromal collagen is a negative prognostic factor following pancreatic ductal adenocarcinoma resection. Oncotarget.2016 Oct 20; 76197-76213 (Epub ahead of print)
Drifka C, Tod J, Loeffler A, Liu Y, Thomas G, Eliceiri K, Kao WJ. Periductal stromal collagen structure of pancreatic ductal adenocarcinoma differs from that of chronic pancreatitis. Modern Pathol, 2015, 28; 1470-1480.
Drifka CR, Eliceiri KW, Weber SM, Kao WJ. A bioengineered heterotypic stroma-cancer microenvironment model to study pancreatic ductal adenocarcinoma. Lab-on-Chip. 2013; 13, 19, 3965-3975.
Cantu D, Kao WJ. Combinatorial biomatrix-cell based therapies for restoration of host tissue architecture and function. Adv Healthcare Mat. 2013, 12, 1544-1563.
Xu K, Cantu DA, Fu Y, Kim J, Zheng XX, Hematti P, Kao WJ. Thiol-ene Michael-type formation of gelatin/polyethylene-glycol biomatrices for 3-D mesenchymal stromal/stem cell presentation to cutaneous wounds. Acta Biomaterialia. 2013; 9, 8802-8814.
Cantu D, Hematti P, Kao WJ. Cell encapsulating biomaterial regulates MSC differentiation and macrophage immunophenotype. STEM CELL Translational Medicine. 2012, 1, 10; 740-749.
Waldeck, H, Wang X, Joyce E, Kao WJ. Active leukocyte detachment and apoptosis/necrosis on PEG hydrogels and the implication in the host inflammatory response. Biomaterials. 2012; 33, 29-37.